Library Building Project
Although 2020 has been a year of unpredictable and unrelenting challenges, the New Glarus Public Library Board of Trustees continues to forge ahead with plans for a new library building.
At this time, the Board is determined to build in 2021 and is diligently looking at ways to maximize the building with the funds currently available. Plans continue to evolve, and we will share details as they are confirmed.
The active year of fundraising events that the Capital Campaign co-chairs had planned has not been possible due to the global pandemic. As we announced in April, the Library Board is not actively pursuing largescale fundraisers when many are facing financial hardship. However, donations continue to arrive from generous citizens, and the Board is grateful for every contribution.
Now more than ever, we rely on individuals with the capacity to come forward and give what they can, to help us build the best library possible. This is an opportunity for the community to come together and focus on an effort that gives current and future generations a priceless gift: a place where everyone can learn, gather and celebrate our unique stories. Donations are currently being matched by the generous Love of Community grant, up to $50,000.
Image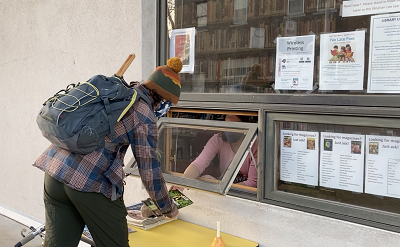 Like most businesses, the library has made adjustments to keep the community safe while continuing to provide services. Shown here, local teen Roman Kendrick picks up books at the library's service window which is currently open 6 days a week. Photo courtesy of Beth Blahut