Building Project - Recent News
Building Project History & Archives
New Location Under Consideration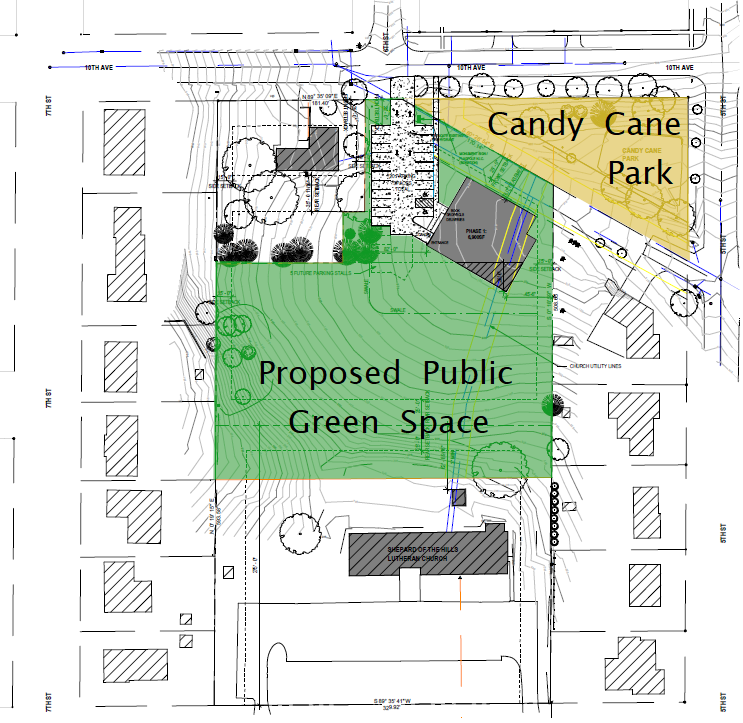 The Library Board, Village Board and Shepherd of the Hills congregation are considering a purchase agreement for the parcel next to Candy Cane Park. The land would be purchased with library building project funds, and legally owned by the Village with the Library Board as custodian. It is zoned residential, allowing both public libraries and recreational grounds.
What would be included in this project?
A new library sized to current funds, estimated at 6,900 SF.
Green space made public, including the sledding hill.
Public parking and restrooms available during library hours.
Building expansion is a possibility for the future, but is not currently affordable and designs have not been selected. If funds become available, designs and costs for expansion would be explored as a separate project.
What are the next steps in the process?
Several important steps must take place before this plan could become a reality:
Gathering public feedback. On Saturday May 22, 2021, a public information session was held at Candy Cane Park. The Library and Village Boards will review the feedback received at the event and via email and social media, and welcome additional public comments and questions. Feedback forms are available at the library, or you may email the boards directly (see contact information below).
Finalizing sale terms and agreement approval by all parties (congregation, Village and Library Boards).
Completion of building design and approval by the Library and Village Boards.
Approval of the Certified Survey Map and site plan, including Village engineering, utilities and stormwater considerations.
Formal bidding process.
How do I find out more?
Attend meetings:
Watch for updates in the Post Messenger Recorder, or sign up for our email newsletter.
Updates are also posted under Recent News, and project history is available on the History and Archives page.
For a list of questions recently answered by the trustees, please see our Building Project FAQs page.
Library trustees welcome your comments and questions. Feel free to email libraryboard@ngpl.org, or ask the library (608-527-2003) for a list of individual trustee emails or phone numbers. Village trustee information is listed at newglarusvillage.com/government/village-board.