New Glarus Library Campaign Meets Schlecht Family Foundation Challenge Grant
The New Glarus Library Campaign is delighted to announce that it met the $30,000 matching grant from the Schlecht Family Foundation by the December 31, 2019 deadline. The $60,000 raised will go towards the new library to be located on Durst Road on the west side of New Glarus. Thank you to all the generous donors who had their donations matched!
To date, over $1,200,000 has been raised with an additional $1 million committed by the village of New Glarus. The goal is to raise an additional $1.3 million by October 2020, unless that amount is reached sooner. Whether the goal is reached or not, fundraising for the building project will end October 2020 and the new library will be built with the existing funds.
The new library plans include a single story building with a drive-up book drop, a quiet reading area for adults, private study rooms, a separate and expanded area for children, an area for young adults to gather, and a dedicated programming space separate from the library for after-hours access.
Watch for updates about the building project here at newglaruspubliclibrary.org/building-project and in the Post Messenger Recorder.
Image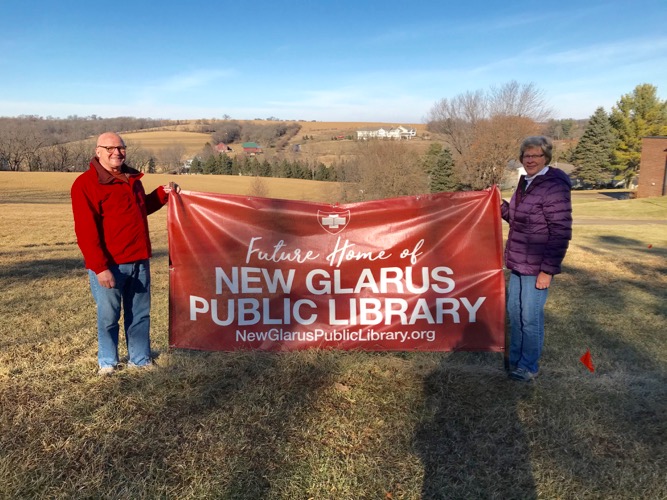 Pictured: Village Board President Roger Truttman and Library Board President Linda Hiland at the site of the new library. Photo courtesy of Mary Hillstrom.