Image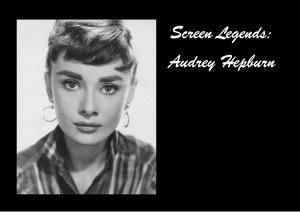 Binge Box Contents
Roman Holiday (1953): A bored and sheltered princess escapes her guardians and falls in love with an American newsman in Rome.
Sabrina (1954): A playboy becomes interested in the daughter of his family's chauffeur, but it's his more serious brother who would be the better man for her.
War and Peace (1956): Napoleon's tumultuous relations with Russia, including his disastrous 1812 invasion, serve as the backdrop for the tangled personal lives of two aristocratic families.
Funny Face (1957): An impromptu fashion shoot at a book store brings about a new fashion model discovery in the shop clerk.
Love in the Afternoon (1957): A middle-aged playboy becomes fascinated by the daughter of a private detective who has been hired to entrap him with the wife of a client.
The Nun's Story (1959): After leaving a wealthy Belgian family to become a nun, Sister Luke struggles with her devotion to her vows during crisis, disappointment, and World War II.
Breakfast at Tiffany's (1961): A young New York socialite becomes interested in a young man who has moved into her apartment building, but her past threatens to get in the way.
My Fair Lady (1964): In 1910s London, snobbish phonetics professor Henry Higgins agrees to a wager that he can make crude flower girl, Eliza Doolittle, presentable in high society.
Paris When it Sizzles (1964): The sprightly young assistant of a Hollywood screenwriter helps him over his writer's block by acting out his fantasies of possible plots.
Wait Until Dark (1967): A recently blinded woman is terrorized by a trio of thugs while they search for a heroin-stuffed doll they believe is in her apartment.