For Children
PBS Kids Writers Contest
Does your child love to make up stories?  Then check out the PBS Kids Writers Contest.  Students in kindergarten through third grade are eligible to enter.  Stories may be fact or fiction, prose or poetry.  Children who are not yet writing may dictate their story to an adult, but all stories must be typed or neatly printed, and illustrated by the child.  The contest begins on January 6th, 2014, and entries must be postmarked no later than March 21, 2014.  For a complete list of rules and to download an entry form, visit the Wisconsin Public Television website. 
Summer Library Reading Program 2014 - Fizz, Boom, Read!

The 2014 Summer Reading Program will have a science theme, and we are so excited! Registration will begin on June 2nd.  Stay tuned for more information about our summer events.
Preschool Story Time
Join Children's Librarian, Ignacia, for stories, songs, and crafts! Preschool story times are held on most Fridays, at 10:15 a.m. from Sept. to May in the Library.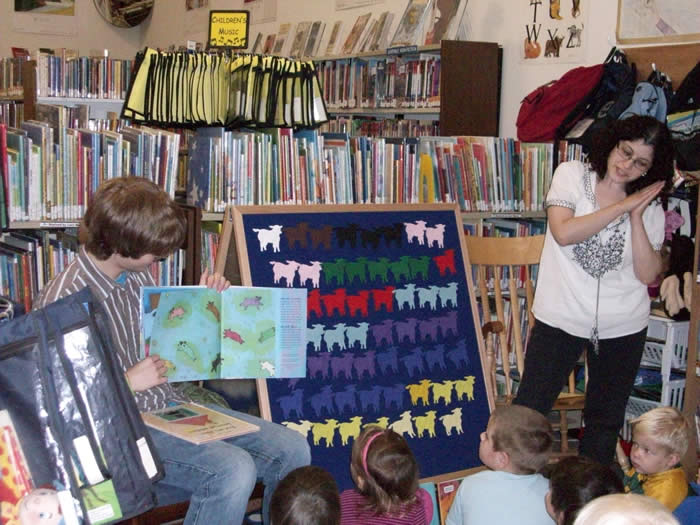 Children's Librarian, Ignacia Boersma (r), had a bilingual English/Spanish Preschool Story Time on Oct. 14, 2011 with some help from Library Page Braxton Schafer. Photo courtesy of Janis Merkle.
Story Line
Call the New Glarus Public Library Story Line @ 527-4363 to hear a folktale, poem or song at nap time, bedtime or anytime! Story Line is sponsored by the Friends of the New Glarus Public Library.
New Baby Packages
The Friends of the New Glarus Public Library provide children's board books and bibs to the library for distribution to new babies in the New Glarus area. If you know of an eligible baby, please, contact New Glarus Public Library staff for a special reading care package to be sent to the family.
Children's Computer
New Glarus Public Library sends a big "thank you" to the New Glarus Community Foundation for funds to purchase our children's computer. The AWE Early Literacy Station offers lots of fun learning games in both English and Spanish. It is a big hit with our younger patrons, especially the touch screen feature. If you haven't seen it yet, stop by the Library and try it out!
Links for Caregivers
Resources for Helping Children Cope With Tragedy and Scary Images in the Media
Find books at your child's reading level with Lexile.com
Did You Know?
You can connect with the New Glarus Public Library via Facebook, Twitter and Pinterest!