For Children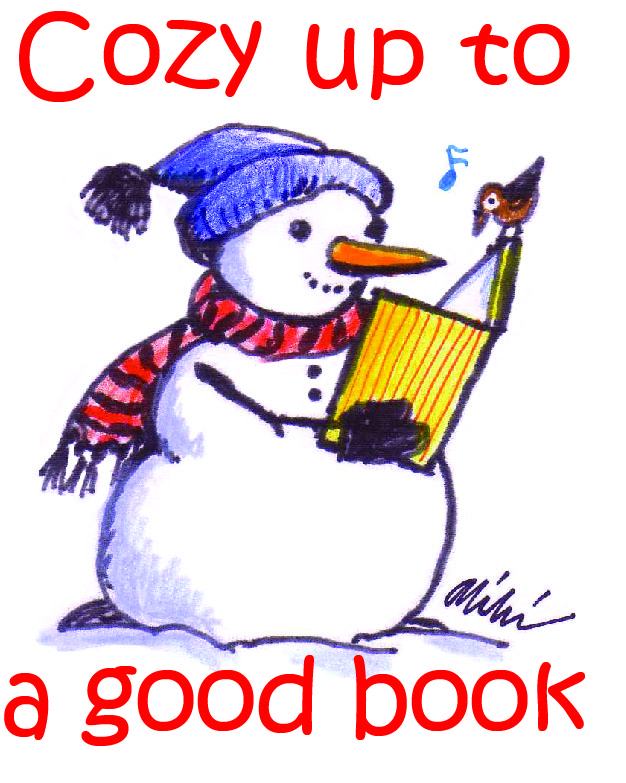 Our new winter reading program kicks off on January 3rd!  This program is open to all K-12 students.  Participation is easy.  Simply pick up a reading log, read and record 3 books, and write us a quick, 2-sentence review of one of those books.  Then turn in your form.  No registration is required, and you do not need a library card to participate.  You may enter as many times as you wish.  Each reading log completed counts as an entry in the grand prize drawing.  We will also be holding weekly door prize drawings at the elementary and middle/high school levels.
You may pick up blank reading logs and turn in completed entries at the library, the elementary school office, or the middle/high school office.  For students attending the New Glarus Public Schools, we will drop off prizes at the appropriate school office.  All other prize winners must pick up their prizes at the library.  We are unable to mail prizes.  The last day to turn in reading logs is Saturday, March 11th.
Questions?  Send your inquiries to staff@ngpl.org or call us at 527-2003.
This program is sponsored by the New Glarus Community Foundation and Culver's of New Glarus.
Thanks to everyone who helped make the 2016 summer reading program a success!
Our sponsors and partners:
Anchor Bank
American Legion, Stuessy-Kuenzi Post 141
Argue-Ment Golf Course
The Artful Gourmet
Bank of New Glarus Board of Directors
Brenda's Blumenladen
Cow & Quince
Dane County Fair
Esther's European Imports
Eugster's Farm
Friends of the New Glarus Public Library
Kennedy's Ice Cream & Grill
Kinderladen
Madison Mallards
Milwaukee Public Museum
New Glarus Bakery
New Glarus Chamber of Commerce
New Glarus Utilities
New Glarus Youth Committee
Pizza Hut of Southern Wisconsin
Schuster's Playtime Farm
Sisters
South Central Library System
Sugar River Pizza
Tofflers Pub and Grill
Union Bank & Trust
VFW Post 10549
Congratulations to this year's grand prize winners!

1,000 Books Before Kindergarten
Why 1,000 books? 
"Everyone wants to do the best for their baby.  Looking at books with your child every day is one of the most important things you can do for his/her future.  Sharing books together strengthens your child's foundation for learning.  Pointing at pictures in a book, saying rhymes, singing songs, writing words, and playing together makes your child more ready for school.  Your baby's ability to learn grows from interacting with you, not a screen or educational toy.  Plant the seed for lifelong learning by growing a reading relationship with your baby."  -Growing Wisconsin Readers
1,000 Books Before Kindergarten is open to all area children who have not yet started 5-year-old kindergarten.  Participation is easy and free.  Stop by the library or use our online registration form to sign up.  Record each book you and your child read together on your reading log.  You can count books heard at story time, daycare, and at school.  In recognition of your reading achievements, your child will earn a book to keep at the 100, 300, 600, and 1,000 book levels.  So what are you waiting for?  Sign up today!
1,000 Books Before Kindergarten is supported in part by the New Glarus Community Foundation.
Preschool Story Time
Join Children's Librarian, Ignacia, for stories, songs, and crafts! Preschool story times are held on most Fridays at 10:15 AM, from September through May, in the Village Hall Community Room.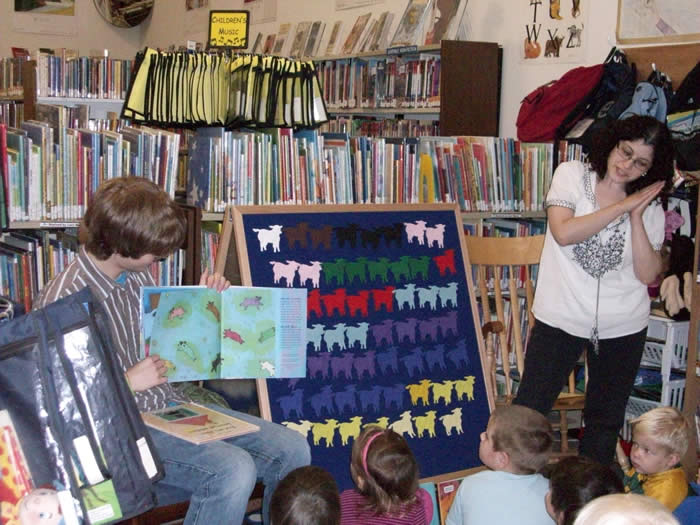 Children's Librarian, Ignacia Boersma (r), had a bilingual English/Spanish Preschool Story Time on Oct. 14, 2011 with some help from Library Page Braxton Schafer. Photo courtesy of Janis Merkle.
Story Line
Call the New Glarus Public Library Story Line @ 527-4363 to hear a folktale, poem or song at nap time, bedtime or anytime! Story Line is sponsored by the Friends of the New Glarus Public Library.
The Friends of the New Glarus Public Library provide children's board books and bibs to the library for distribution to new babies in the New Glarus area. If you know of an eligible baby, please, contact New Glarus Public Library staff for a special reading care package to be sent to the family.
Children's Computer
New Glarus Public Library sends a big THANK YOU to the New Glarus Community Foundation for funds to purchase our children's computer. The AWE Early Literacy Station offers lots of fun learning games in both English and Spanish. It is a big hit with our younger patrons, especially the touch screen feature. If you haven't seen it yet, stop by the Library and try it out!
Links for Caregivers
Resources for Helping Children Cope With Tragedy and Scary Images in the Media
Find books at your child's reading level with Lexile.com
Did You Know?
You can connect with the New Glarus Public Library via Facebook, Twitter and Pinterest!