For Children

Summer Reading registration begins June 1st.  Registration is open to children birth through 12th grade, and you may register online or in person at the library.  Please note that even if you register online, you will need to come to the library to pick up your reading log.
Participants are challenged to complete all nine weeks of reading.  Children in the read-to-me program (birth through age 5) are asked to read 8 books per week.  Elementary school participants must read 2 hours per week, and teen participants must complete 3 hours of reading each week.  Prizes will be awarded along the way, and children who complete all nine weeks of reading will be entered in the grand prize drawing.  Grand prizes for 2016 are a Leap Pad Ultra (preschool) and Kindle Fire HD7 tablets (elementary and teen levels).
We also have a great lineup of summer events planned!  These events are free and open to the public, with no registration required. 
  Special summer Preschool Story Time events are scheduled for Tuesday, June 7th, Tuesday, July 5th, and Tuesday, August 2nd.  All summer Story Times will meet at 3 PM in the community room.
  Join us Thursdays at 1 PM, starting June 16th and running through August 11th, for Throwback Thursdays.  We will be screening classic children's sports movies.  Popcorn and drinks will be served.  See our calendar page for more details.
  Join us on Wednesday, June 15th at 10 AM for Josh Casey the Comedic Juggler.  This event promises to be fun for the whole family!
  Kick off Music Fest with a special concert by children's performer David Landau.  This event will be held on Friday, June 24th at 2 PM, in the Village Hall Community Room.  Sponsored by the New Glarus Youth Committee.
  The Traveling Lantern Theater Company returns to New Glarus with their play Vladimir Goes for the Gold: An Olympics Adventure.  Join us on Thursday, June 30th at 6 PM for this special performance.  Weather permitting, the play will be performed in the Village Park.  Sponsored by the Friends of the Library.
  Ever wondered if yoga is for you?  Now is your chance to find out!  Join us on Monday, July 11th at 6 PM for a special family yoga session, led by instructor David Haugh.  Weather permitting, this event will be held in the Village Park.  In case of rain, we will meet at the New Glarus Yoga Center, located at 102 2nd Street (across the street from Small World).
  Get Hip to Health with the Science Alliance!  This educational program involves lots of audience participation, so come prepared to learn all about the human body.  Wednesday, July 20th at 3 PM, in the community room.  Sponsored by the Bank of New Glarus board of directors.
  Our annual Craft Day will be held on Friday, July 29th from 1 to 3 PM.  Drop in to do one craft, or stay to check out every craft station. 
  Help us celebrate the end of another successful Summer Reading Program.  Our closing party will be held on Friday, August 12th from 10:30 AM to Noon, in the Village Park.  We'll have snacks and games!
New This Year

New for 2016, the library is partnering with local businesses to promote literacy.  Become an MVP by strolling our downtown area and exploring the businesses listed above.  Collect a sticker for your scorecard at each location, then bring your completed card back to the library to receive a prize.  (Scorecards will be included with your Summer Reading registration packet.) 
Many thanks to Argue-Ment Golf Course for donating a free round of foot golf to each child who turns in a completed scorecard.
Thanks to everyone who helped make the 2015 summer reading program a success!
Congratulations to this year's grand prize winners!

1,000 Books Before Kindergarten
Why 1,000 books? 
"Everyone wants to do the best for their baby.  Looking at books with your child every day is one of the most important things you can do for his/her future.  Sharing books together strengthens your child's foundation for learning.  Pointing at pictures in a book, saying rhymes, singing songs, writing words, and playing together makes your child more ready for school.  Your baby's ability to learn grows from interacting with you, not a screen or educational toy.  Plant the seed for lifelong learning by growing a reading relationship with your baby."  -Growing Wisconsin Readers
1,000 Books Before Kindergarten is open to all area children who have not yet started 5-year-old kindergarten.  Participation is easy and free.  Stop by the library or use our online registration form to sign up.  Record each book you and your child read together on your reading log.  You can count books heard at story time, daycare, and at school.  In recognition of your reading achievements, your child will earn a book to keep at the 100, 300, 600, and 1,000 book levels.  So what are you waiting for?  Sign up today!
1,000 Books Before Kindergarten is supported in part by the New Glarus Community Foundation.
Preschool Story Time
Join Children's Librarian, Ignacia, for stories, songs, and crafts! Preschool story times are held on most Fridays at 10:15 AM, from September through May, in the Village Hall Community Room.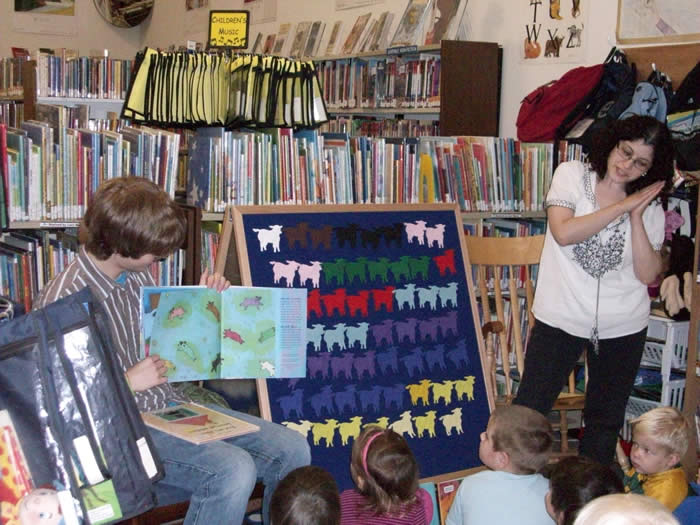 Children's Librarian, Ignacia Boersma (r), had a bilingual English/Spanish Preschool Story Time on Oct. 14, 2011 with some help from Library Page Braxton Schafer. Photo courtesy of Janis Merkle.
Story Line
Call the New Glarus Public Library Story Line @ 527-4363 to hear a folktale, poem or song at nap time, bedtime or anytime! Story Line is sponsored by the Friends of the New Glarus Public Library.
The Friends of the New Glarus Public Library provide children's board books and bibs to the library for distribution to new babies in the New Glarus area. If you know of an eligible baby, please, contact New Glarus Public Library staff for a special reading care package to be sent to the family.
Children's Computer
New Glarus Public Library sends a big THANK YOU to the New Glarus Community Foundation for funds to purchase our children's computer. The AWE Early Literacy Station offers lots of fun learning games in both English and Spanish. It is a big hit with our younger patrons, especially the touch screen feature. If you haven't seen it yet, stop by the Library and try it out!
Links for Caregivers
Resources for Helping Children Cope With Tragedy and Scary Images in the Media
Find books at your child's reading level with Lexile.com
Did You Know?
You can connect with the New Glarus Public Library via Facebook, Twitter and Pinterest!