Do you have a budding writer at home?
We encourage you and your children to check out Letters About Literature.  Letters About Literature is a writing contest for students in grades 4-12.  Students are asked to read a book, poem or speech and write to that author (living or dead) about how the book affected them personally.  Winners are selected at the State and National levels, and are eligible to win cash awards.  Entry deadline is December 10th for students in grades 9 through 12, and January 10th for students in 4th through 8th grades.
For Children
Summer Library Reading Program 2013 - Dig into Reading!
We encourage you to keep your kids reading this summer and to help you do that, the New Glarus Public Library will be offering three distinct reading programs:
"Little Diggers" for preschoolers (ages 2 to 5)
"Dig into Reading!" for elementary school children (entering 1st-5th grades this fall)
"Beneath the Surface" for teens (those going into 6th-12th grades this fall)
Preschool Story Time
Join Children's Librarian, Ignacia, for stories, songs, and crafts! Preschool story times are held on most Fridays, at 10:15 a.m. from Sept. to May in the Library.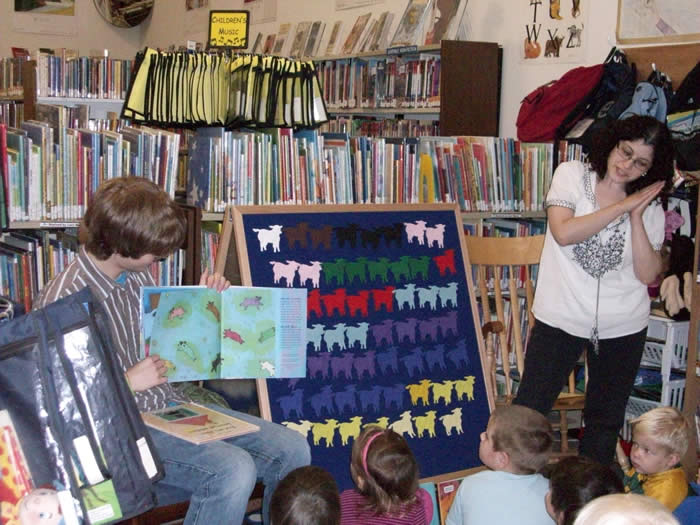 Children's Librarian, Ignacia Boersma (r), had a bilingual English/Spanish Preschool Story Time on Oct. 14, 2011 with some help from Library Page Braxton Schafer. Photo courtesy of Janis Merkle.
Story Line
Call the New Glarus Public Library Story Line @ 527-4363 to hear a folktale, poem or song at nap time, bedtime or anytime! Story Line is sponsored by the Friends of the New Glarus Public Library.
New Baby Packages
The Friends of the New Glarus Public Library provide children's board books and bibs to the library for distribution to new babies in the New Glarus area. If you know of an eligible baby, please, contact New Glarus Public Library staff for a special reading care package to be sent to the family.
New Children's Computer
New Glarus Public Library sends a big "thank you" to the New Glarus Community Foundation for funds to purchase our new children's computer. The AWE Early Literacy Station offers lots of fun learning games in both English and Spanish. It is a big hit with our younger patrons, especially the touch screen feature. If you haven't seen it yet, stop by the Library and try it out!
Links for Caregivers
Resources for Helping Children Cope With Tragedy and Scary Images in the Media
Did You Know?
You can connect with the New Glarus Public Library via Facebook, Twitter and Pinterest!