Image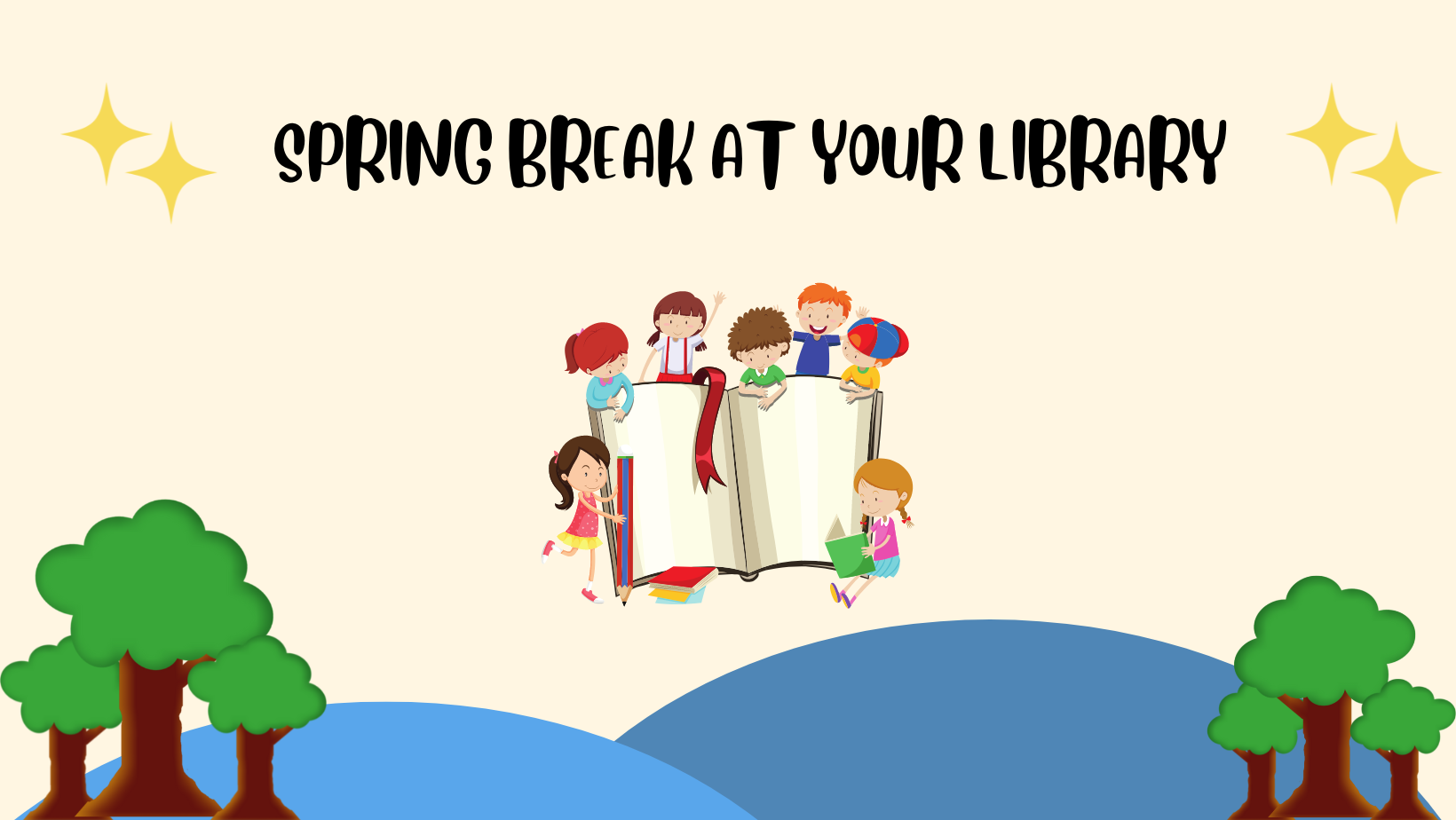 March 27th through April 1st, 2023
We have all sorts of great things happening at the library over Spring Break!
Grab & Go Crafts will be available for preschoolers, school-agers, and teens beginning Monday morning.  Once they're gone, they're gone, so be sure to stop by the library early in the week to get yours!
Virtual Story Time will be held Monday at 10 AM on Miss Brooke's Story Time Facebook Page. 
A Book Giveaway will be held Tuesday from Noon to 4 PM in the Village Hall Community Room.  Kids & teens of all ages are invited to stop by and choose a book to keep!
In-Person Story Time will be held Wednesday at 10 AM in the Village Hall Community Room. This week's theme is farms!
We're celebrating Throwback Thursday with a movie marathon in the community room!
Move it, move it down to the library Thursday at 10 AM for the 2005 DreamWorks animated favorite Madagascar.
Thursday at noon join Benny, Smalls, & the Great Bambino for 90's classic The Sandlot.
Hey you guyyyyyys!  Don't forget 80's favorite The Goonies, starting Thursday at 2 PM.
All movies will be shown in the Village Hall Community Room.   Popcorn and drinks will be provided, but you're welcome to pack your own snacks as well.
Children 8 and under must be accompanied by an adult.  Please note that all three movies are rated PG, but we suggest parents look them over ahead of time to make sure they're appropriate for your family.
Movers & Shakers will meet Friday at 10 AM in the community room.
Friday at 1 PM come down to the community room to meet Wesley the Snowy Owl, Victor the Bald Eagle, and a couple other friends during our Raptor Experience with Hoo's Woods.  That's right, a specialist from Hoo's Woods Raptor Center will be visiting the library with live birds to teach us all about raptors!
While all ages are welcome, this program is recommended for ages 6 and up.
No pets, including service dogs, are allowed in the community room during this presentation.
No flash photography or video recording will be allowed.
Sponsored by the Friends of the Library.
Plus, we'll have a special scavenger hunt happening in the library all week long!  Each day a new gnome will be hiding somewhere in the library.  Find the gnome, write down his or her name on an entry form, and turn in your entry at the desk to be entered in the grand prize drawing.  On Monday, April 4th, one lucky kid will win an awesome candy bouquet!  Play every day to earn more entries in the prize drawing.