Create a Map of New Glarus
By Beth Blahut
The year 2020 has challenged us all, individually and collectively. Share your stories of the past year on a map that shows where you went, how you stayed connected, and what has changed in your life. The New Glarus Public Library is providing art supplies for community members to draw and paint maps of New Glarus. The project is for all ages and all skill levels.
The 'Mapping Our Community' project will promote well-being throughout the area by offering a forum for discussion. In addition to helping people find a path forward, a number of maps will be selected to hang permanently on the walls of the new library building. 
Go to youarehereNGPL.org for registration details, inspiration and instructions. Pick up your art supplies at the New Glarus Public Library's 4th Ave window through April 1st, while supplies last (limited to the first 100 participants).
The map project is made possible with a grant from the Anonymous II Fund of the New Glarus Community Fund of the Community Foundation of Southern Wisconsin.
Image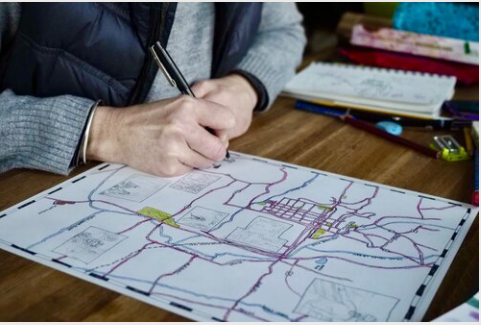 Image: Preliminary sketches of New Glarus, courtesy of Beth Blahut