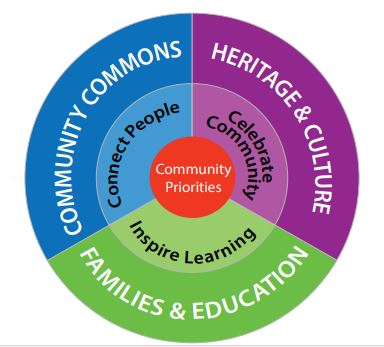 NEW GLARUS PUBLIC LIBRARY: Aligning Library Services to Core Community Priorities
In May of 2017, the New Glarus Public Library embarked on a strategic planning process to gather community input and data to develop library service priorities that align with core community priorities. First and foremost, the library board and staff sincerely thank the residents, stakeholders, library staff, and library partners who participated in this process and provided valuable input. Now, as we're set to enjoy July, the strategic plan has been approved by the Library Board of Trustees and there is a lot of excitement as we release this product.  The hard work by everyone involved provides a framework for delivering programs and services that celebrate community, inspire learning, and connect people. 
Rather than focus on the current or future building, our goal throughout the process was to look at the community and see how we could help meet community needs regardless of our space. Of course, there are limitations to what the library is able to do because of our limited space and carefully allocated resources, but the library board and staff wanted to remove as many barriers as possible while completing this process. So, with that in mind, SOAR assessment discussions (Strengths, Opportunities, Aspirations, and Results), and community conversations were used to identify current strengths to build upon and create a vision of future community life. Through these conversations we were able to identify three core community priorities and service goals: celebrating culture and heritage, focusing on families and education, and creating a community commons.
In addition to these SOAR discussions and community conversations, library statistics were reviewed, community demographic and socioeconomic data was collected, and community users and non-users were invited to participate in an online survey.  This data informs library leadership about ways community members use and value the library. The survey was available via the library website from February 7 through early March.  However, it was later determined that responses were submitted after the link to the survey was removed from the library website.  There were additional late responses in March and April.  It is important to us that all voices are heard in the community so all responses are included in the analysis, dataset, and results included in the approved strategic plan. Again, the library board and staff thank all of you for taking the time to participate and give us meaningful feedback.
The library has already begun making changes to programming and services to accommodate the needs and wants as reflected in the strategic planning process. Staff have received additional training, we're examining our physical collections closely to identify areas that need more development, and we are taking a look at ways we can create comfortable, safe, and inclusive spaces for our patrons. This is an exciting time for us at the library, and as we look toward the next several years I'm excited to use this strategic plan to guide new initiatives. We're a vibrant, welcoming, and proud community and I have no doubt that we will do extraordinary things moving forward.
If you'd like to view the Strategic Plan and Environmental Scan please click on the respective text.