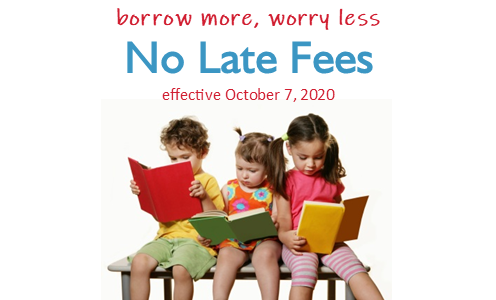 New Glarus Public Library is Fine Free
Effective October 7, 2020, New Glarus Public Library no longer charges fines on overdue materials.
How does it work?
Our policy only applies to materials that you check out from us. Whether we own the item or you place a hold on another library's copy, as long as you pick it up at New Glarus, you won't accrue overdue fines. Good reason to visit us, eh?
If you visit another library and check something out, their policies apply. Unfortunately we can't declare that all New Glarus patrons are fine free; it all depends on where you check out. The good news is that many libraries in the South Central Library System (and across the world!) have already gone fine free, including all branches of the Madison Public Library. 
Responsible stewardship is still expected:
You'll still be expected to return items by their due dates, so that all patrons have a chance to use them.
If you keep an item too long, it will still go to Lost status and a replacement charge will show up on your account. But as always, that charge disappears when you return the item in good condition.
If you lose or damage an item, you will still be charged a replacement fee.
We will also be clearing old overdue balances owed to New Glarus, but it may take some time before you see this change on your account. 
Why go fine free?
Research from the American Library Association (ALA) and other sources shows that overdue fines disproportionately affect low-income patrons and create a barrier to accessing the library. Libraries are recognizing overdue fines as an equity issue. 
The idea that overdue fines motivate people to stick to due dates has also been debunked: libraries without fines do as well or better at receiving materials on time. For people who can afford them, late fees are too small to make a difference. For those who struggle financially, a fine balance becomes a reason to be wary of checking out materials and may prevent the patron from coming back at all.
A number of patron groups have been fine free at New Glarus for years: senior citizens, daycares, teachers and homeschoolers. Now this benefit applies to everyone.
For further reading, we recommend starting with:
Will this affect the library budget?
Overdue fines accounted for about 1.4% of our revenues in 2019, which is fairly typical for public libraries. We prioritized this change over other budgetary adjustments this year because now more than ever people need the library to be accessible.
We are fortunate to have a generous community. Very often someone will overpay their fines or pay when they don't owe anything at all. We're told, "I want to pay my fines and support the library!" We welcome and encourage our community to continue making these contributions. It doesn't take long for occasional donations of $5, $10 or $20 to add up. We would much rather accept a voluntary donation from someone who can afford it than see someone stop using the library's resources just because they kept their items bit too long.