Image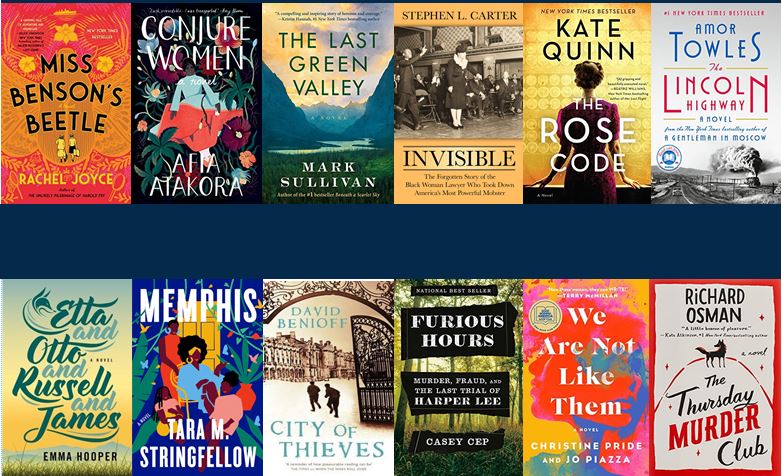 The votes have been tallied and the results are in!  These are the books we'll be discussing in 2023:
January 10th: Miss Benson's Beetle by Rachel Joyce
February 7th: Conjure Women by Afia Atakora
March 14th: The Last Green Valley by Mark Sullivan
April 11th: Invisible: The Forgotten Story of the Black Woman Lawyer Who Took Down America's Most Powerful Mobster by Stephen L. Carter
May 9th: The Rose Code by Kate Quinn
June 13th: The Lincoln Highway by Amor Towles
July 11th: Etta and Otto and Russell and James by Emma Hooper
August 8th: Memphis by Tara M. Stringfellow
September 12th: City of Thieves by David Benioff
October 10th: Furious Hours: Murder, Fraud, and the Last Trial of Harper Lee by Casey Cep
November 14th: We Are Not Like Them by Christine Pride & Jo Piazza
December 12th: The Thursday Murder Club by Richard Osman
Book club meets on the second Tuesday of each month at 6 PM.  (The February 2023 meeting has been moved to February 7th due to Valentine's Day.)  Regular and large print copies of the books are available for checkout beginning approximately one month before the scheduled discussion date.  All interested adults are welcome to attend.